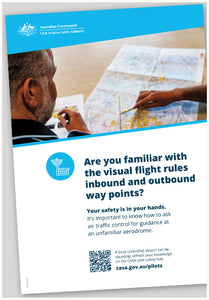 Visual flight rules poster
A poster reminding pilots to ask air traffic control for guidance at unfamiliar aerodromes. The posters are part of the Pilot safety campaign.
Features and specs
A3 or A4 full-colour poster on thick paper.
The CASA online store operates on a cost-recovery basis. Shipping is charged at a flat rate of $15 per order to cover production and dispatch costs only.

SP301
---
We also recommend