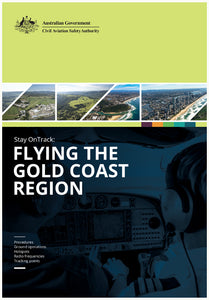 Stay OnTrack - flying the Gold Coast region
This guide is designed to help VFR pilots who are either unfamiliar with or haven't flown the Gold Coast region for a while. With this guide, you will develop a better understanding of what to expect while flying.  
Topics include: 
military procedures

airspace infringement hotspots

ground operations

tracking and reporting point information

weather, and much more.

 
Features and specs
B5, full colour, 16-page booklet.
The CASA online store operates on a cost-recovery basis. Shipping is charged at a flat rate of $15 per order to cover production and dispatch costs only. 
SP234
---
We also recommend