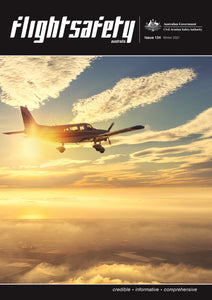 Flight Safety Australia Winter 2021
What must the pilot of a single-engine aeroplane do if the prop shudders to a complete stop? To be ready for that scenario, the lead feature in the Winter edition, The emergency mindset, discusses the training, habits and skills that pilots need to save themselves – and their passengers – if a forced landing far away from an aerodrome is inevitable.
If you're thinking of buying a drone, be sure to read Kreisha Ballantyne's article, What Donny taught me about drones. Meeting a drone pilot on a dating app led her to realise how transferable her fixed-wing flying skills were in understanding and learning another form of flight.
In our Industry Q&A feature, All wingspans, great and small, we interview Matt Bouttell about his new role leading RAAus and his ambition to change the conversation from 'us and them' to a more engaging model and a productive mood.
The historical article in this edition, The lost boys, analyses the 1993 crash in wilderness, less than 90 kilometres from Bankstown Airport, that resulted in the deaths of a low-hours pilot and his passenger. Senior writer Robert Wilson analyses the tragedy from a modern safety perspective.
This 64-page edition features another 'crash comic', tests readers' knowledge with quizzes and has great safety reading and information valuable to everyone in aviation.
Flight Safety Australia is also available for annual subscription.


FSAM134
---
We also recommend