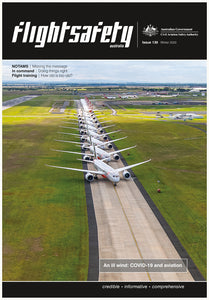 Flight Safety Australia Winter 2020
The lead feature of the Winter 2020 edition of Flight Safety Australia looks at the impacts of the COVID-19 event on aviation and some of the safety considerations as we emerge from the crisis.
Another feature asks how a pilot can find vital pre-flight information when it's buried deep in a stream of NOTAMs. This frustration, felt by pilots around the world, is finally being addressed—but don't expect change anytime soon.
The magazine poses this question for its readers: How old is too old to learn to fly? And as our pilot population ages and the recreational sector continues to grow, are the differing needs of older pilots being met by standard training? Do older pilots learn differently and is our older pilot population being catered for?
This edition also tests readers' knowledge with quizzes, delivers drama in 'Close calls' and, of course, features another 'Crash comic'.
Flight Safety Australia
 is also available for 
annual subscription

.
FSAM130
---
We also recommend