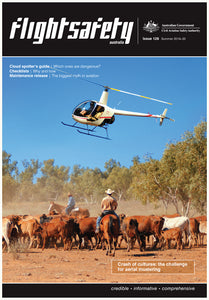 Flight Safety Australia Summer 2019
In the Summer 2019 issue of Flight Safety Australia we go behind the scenes in the world of aerial mustering and dig into the latest trends to keep pilots safe and cattle calm. And come with us as we go on the road with CASA's dedicated team of Aviation Safety Advisors. In the last 12 months, the team of nine advisors presented more than 220 seminars to all sectors of industry and stood before about 8500 people in seminars and on-site visits.
We think all pilots will be keen to read feature by Kreisha Ballantyne, 'The cloud spotters' guide to safety', which delves into the various families of clouds, the detailed naming scheme and, most importantly, which ones to avoid during your flight.
And Thomas P. Turner poses a key question for aviators: We're taught we should use checklists, but do we know why and how to use them?
Flight Safety Australia
 is also available for 
annual subscription
.
FSAM128
---
We also recommend