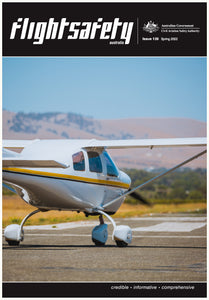 Flight Safety Australia Spring 2022
What is the most dangerous phase of the circuit? Pilots are instinctively and correctly cautious on the base-to-final turn but examination of accident numbers reveals another dangerous phase. This spring we have an intriguing analysis of crash statistics that suggests most aerodrome or landing area circuit stalls occur during initial climb or on the upwind leg.
And what are the correct radio calls to make when approaching the circuit area? To answer that, we have a preview of the new series of AvSafety seminars, going to towns across Australia with the theme, 'Operations on and in the vicinity of non-controlled aerodromes'. If you are a GA or RAAus pilot, this theme applies to just about every strip you land at – from Wagga Wagga to Gladstone to Wynyard to Busselton. 
The crisis provoked by COVID-19 is a challenge to aviation safety that is not going away soon. But history shows how inspired leadership can turn adversity into improvement. The feature, 'Culture, change and catastrophe', by Professor Ron Bartsch, discusses how, after the crash of ValuJet Airlines Flight 592 in the Everglades, the airline's board of directors realised the only way the company had any chance of survival was by transforming the culture of the airline. 
'A dangerous thing happened on the way to the races' analyses the phenomenon of dynamic rollover –  a (sometimes expensive)  reminder that helicopters need expert and careful handling from the moment their rotors start turning.
Senior Writer Robert Wilson continues his fascinating historical series, this time about a high-performance turbine twin that developed a harsh reputation in the 1980s and '90s. The story of the Mitsubishi MU-2B-60 Marquise should be a cautionary tale for upwardly mobile pilots, looking to stretch themselves in any type of faster, more complex aircraft. Ask yourself: do my skills match my ambitions?
'When EFATO calls', one of the popular Close calls, is about a recreational pilot discovering the reasons for the seemingly endless drills of his initial training. 'At approximately 300 feet AGL, the engine RPM began rolling back,' the pilot recalls, after landing safely following engine failure at take-off.
This 64-page edition features another 'crash comic', tests readers' knowledge with quizzes and has great safety reading and information valuable to everyone in aviation.

Flight Safety Australia is also available for annual subscription.
FSAM139
---
We also recommend