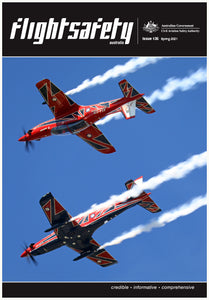 Flight Safety Australia Spring 2021
We selected an iconic image for the cover of the Spring edition of Flight Safety Australia – the spine-tingling scene as two RAAF Roulette aircraft scream across the sky, in close formation – and inverted.
If you've seen this world-class team in action, you know how superb they are and how much they push the envelope to put on a great show, but always with safety in the forefront.
To celebrate the centenary of the Air Force, we're delighted to bring readers an interview with Flight Lieutenant Aimee Heal, Roulette Seven, the non-flying member of the team. You can read about what she learnt from her first in-flight emergency, years before joining the team – when one engine on a King Air stopped – and her thoughts on developing and maintaining a robust safety culture.
With Summer approaching, Senior Writer Robert Wilson has written a feature on aerial firefighting, discussing how bushfires are getting bigger and canvassing how tactics are changing, such as using large tankers and flying at night.
Well known aviator and author, Shelley Ross, is recently back from an air safari to Uluru and has useful tips for recreational and GA pilots heading for the Outback. Drawing on her experience on many such trips, she presents scenarios encountered in remote areas and, for each, gives practical guidance to handle the situation, including ground ops, runway disorientation and last light.
Other articles in this edition analyse loss of directional control on the runway, especially due to improper aircraft control in adverse winds, and present practical tips on radio calls.
This 64-page edition features another 'crash comic', test readers' knowledge with quizzes and have great safety reading and information valuable to everyone in aviation. 
Flight Safety Australia is also available for annual subscription.


FSAM135
---
We also recommend