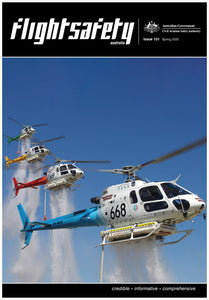 Flight Safety Australia Spring 2020
The lead feature of the Spring edition of Flight Safety Australia will examine the unique risks for the aviation industry facing its longest crisis. However, it will also ask if there are silver linings—are there opportunities for transformation after the pandemic shutdown?
As sport and general aviation pilots are getting back into the air, another feature discusses when not to fly, by examining everyday conditions that will stop us from flying and the importance of instinct and trusting your gut.
Our writers will also discuss hazardous pilot attitudes, helicopter performance in hot weather and using virtual reality for training maintenance engineers.
In the ever-popular Close calls, a senior gliding instructor learns a valuable lesson after being lulled into a false sense of security with a student who had a lot of flying experience. 'Expect the unexpected—at any time,' the instructor says.
This edition's historical feature will examine the crash of an Avro Lincoln on Queensland's Mount Superbus during a medical evacuation in 1955. Six people died in that tragic accident in the early hours of Easter Saturday, including the critically ill two-day-old baby being flown from Townsville to Brisbane and Mafalda Gray, the 26-year-old nurse who volunteered to travel on the emergency flight to care for the baby.
We ask this question—what prompted the inexplicable decision of an experienced captain to embark on a long overwater flight with a sick engine?
This 64-page edition will feature another 'crash comic', test readers' knowledge with quizzes and have great safety reading and information valuable to everyone in aviation.
Flight Safety Australia is also available for annual subscription.


FSAM131
---
We also recommend