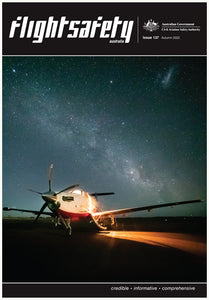 Flight Safety Australia Autumn 2022
What becomes of aviation in a world committed to carbon neutrality? In this edition, Senior Writer Robert Wilson says the answer might not be as grim as it seems, with new technologies and fuels rapidly developing. While aviation is not the largest contributor to increased CO2 levels, it is among the fastest growing CO2 sources. He discusses the pros and cons of electric-powered flight and analyses the development of hydrogen and bio fuels for long-haul aircraft.

Many articles in aviation publications cover in-flight engine failure but few describe techniques for the glide itself. Contributor Thomas P Turner focuses on the control aspects that permit us to do everything else – how to glide, how to prepare for an engine-out landing and how to safely practice these actions, so you'll be ready when engine failure happens to you.

Pilots like to be in control – but are we? Adrian Parker says a different reality was demonstrated by an EC225 Super Puma which crashed on a small island near Turøy in Norway, with the death of everyone on board, after the main rotor detached. The subsequent investigation showed just how profoundly consequential other people's actions are on our own destiny and that while we might be the master of our aircraft, we are not the master of our fate.

Experienced Outback pilot Shelley Ross says if you have to cancel an air safari due to weather, do it early. 'Let's talk about get-there-it is,' she says. 'Remember? That's the one that tries to kill pilots.'

Taxiing poses hazards, despite being one of the first skills pilots learn and one we use each time we fly. Kreisha Ballantyne discusses how to plan your next taxi route and be better prepared for surprises.

This 64-page edition features another 'crash comic', tests readers' knowledge with quizzes and has great safety reading and information valuable to everyone in aviation.
Flight Safety Australia is also available for annual subscription.
FSAM137
---
We also recommend