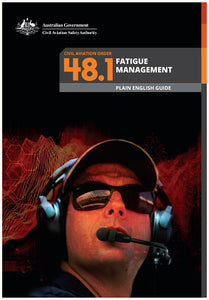 Plain English Guide for fatigue management
This guide makes it easy for you to meet your obligations under Civil Aviation Order 48.1 Instrument 2019 and Subpart 137.Q of Civil Aviation Safety Regulations 1998.
This guide contains information about each appendix, with helpful hints explaining what's expected of pilots and operators, and what might need to be considered when complying with the fatigue management rules.
Features and specs 
B5, full colour, 88-page guide.
If multiple copies are required please contact Rob Harrison at (03) 9560 6776 or rob@brnbenchmark.com.au for further instructions.
The CASA online store operates on a cost-recovery basis. Shipping is charged at a flat rate of $15 per order to cover production and dispatch costs only.     
SP227
---
We also recommend