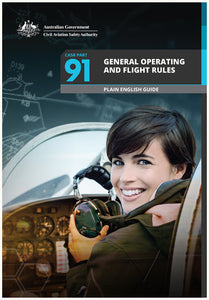 Plain English Guide for new flight operations regulations
This guide makes it easy to understand the flight operations regulations (Part 91 of the Civil Aviation Safety Regulations). The guide explains the foundational rules for all aviation in Australia (except drones). Included in the guide are all the general operating and flight rules you need to know, with helpful hints explaining what's expected and what to consider when complying with different rules. 
The guide is primarily intended for general aviation pilots and flying schools. However, it is expected all pilots could find it useful as it contains the foundational rules for all flight operations. 
Features and specs
B5, full colour, 198-page guide.
If multiple copies are required please contact Rob Harrison at (03) 9560 6776 or rob@brnbenchmark.com.au for further instructions.
The CASA online store operates on a cost-recovery basis. Shipping is charged at a flat rate of $15 per order to cover production and dispatch costs only.     
SP226
---
We also recommend