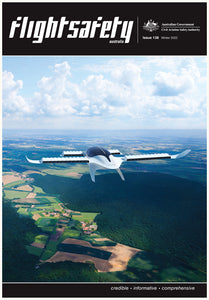 Flight Safety Australia Winter 2022
This winter we explore electric VTOL aircraft, planning an air safari, revisit a de Havilland Mosquito crash from 1944 and learn lessons from a reader when they tell of a 'Close Call' involving a lunchtime flight in Canberra that almost ended in disaster.
The cover of the Winter edition of Flight Safety Australia has an intriguing artist's impression. We chose this futuristic image of the 7-seater Lilium Pegasus jet to highlight the feature, Stranger things: electric VTOL aircraft. Contributor Angela Stevenson says the development of increasingly lightweight construction materials and improved battery capacity has significantly increased the viability of electric vertical take-off and landing aircraft in recent years. With multiple rotors, these craft do not require the extraordinary skill of a helicopter pilot to successfully take-off, fly and land safely.
The centrespread, Southern exposure, is written by Shelley Ross, an experienced aviator and journalist, who delights in taking groups of pilots out of their comfort zone and into the Outback or across Bass Strait. She explains the detailed planning needed to make successful 'air safaris', including equipment, weather, fuel stops and the need to avoid get-there-itis. 'Tasmania's east coast offers us the ultimate bucket list flight,' she says. 'I'm not usually lost for words but the coastline between the Tasman Peninsula and St Helens in the north is breathtaking.'
Senior Writer Robert Wilson continues his fascinating historical series, this time revisiting the last flight of Wing Commander Guy Gibson and Flight Lieutenant James Warwick who died when their de Havilland Mosquito crashed in the Netherlands on the night of 19 September 1944. Gibson had been the leader of the bombing raid by Royal Air Force 617 Squadron that smashed two dams in Nazi Germany in May 1943. His name would become famous after the 1955 film The Dam Busters about the raid. '[The Mosquito crash] is a vivid reminder of the importance of fuel management, flight planning, type experience and how the sky in war or peace is no respecter of persons.'
In one of the popular Close calls, Fear for lunch, a public servant tells how he took colleagues for a lunchtime flight in Canberra that almost ended in disaster – on take-off, the aircraft pitched up sharply due to an aft centre of gravity, generated from the fuel and passengers. 'There were 4 very pale public servants who disembarked when we finally shut down,' he recalls.
This 64-page edition features another 'crash comic', tests readers' knowledge with quizzes and has great safety reading and information valuable to everyone in aviation.

Flight Safety Australia is also available for annual subscription.
FSAM138
---
We also recommend