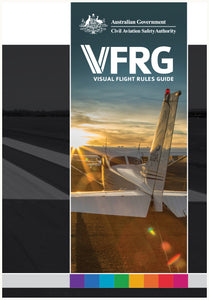 Visual Flight Rules Guide
Get help preparing, planning and flying safely under the visual flight rules. It includes information on radio communication, decision-making, and dealing with emergency situations. 
This guide: 
explains the rules in plain English
uses practical information and examples
contains the general operating and flight rules
includes relevant regulations and guidance for pilots.
 Order your copy today, your way:
binder and inserts – perfect for your first VFRG copy
inserts only – save money by ordering the content only
binder only – great if you need to replace a damaged binder.
 Order your copy now or download for free on our website. Always check the CASA website to ensure you are aware of the latest content changes.
 If multiple copies are required, please contact Rob Harrison on (03) 9560 6776 or rob@brnbenchmark.com.au for further instructions.

SP161
---
We also recommend